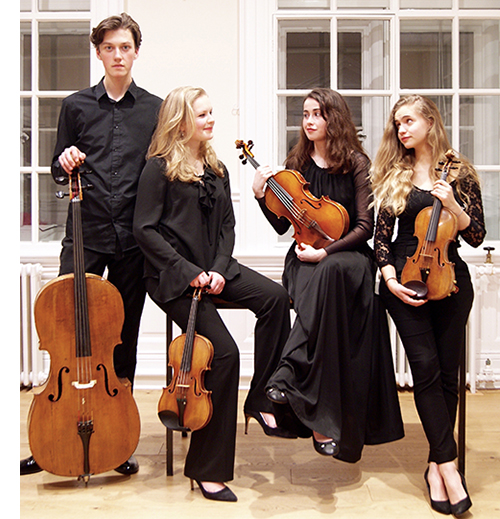 Tuesday May 15th 1.05-2.05pm
The Artha string quartet
Charlotte Saluste-Bridoux  Violin    Line Faber  violin
Ana Dunne-Sequi viola   Silvestrs Juris Kalniņš  cello
.
String Quartet No. 6 in F minor  Op. 80
.
String Quartet No. 2 in F Major  Op. 92
The Artha String Quartet is a newly-formed Royal College of Music ensemble made up of four dynamic award winning young musicians who share a passion for chamber music.
Together they have performed in a variety of venues, such as the Britten Theatre and the Tate Modern.
They have had the privilege to work with great musicians dedicated to chamber music, namely Antonello Farulli (Reina Sofia chamber music teacher), Magnus Ericsson (Oslo Philharmonic Concertmaster), Peter Herresthal (Oslo Academy Professor), Ilmar Gavilán (Harlem quartet), Yuri Zhislin (Rosamunde Quartet). They have also been invited to be the resident chamber ensemble for the course 'Musethica' in Zaragoza and each member, individually, is a regular of International Chamber Music Festivals, the likes of IMS Prussia Cove Open Chamber Music, Santander Festival, Musica Mundi chamber music festival, Summer Academy Voksenåsen in Oslo, East Neuk retreat and Manchester Quartet Week.
Later this year they will be performing Shostakovich 4th String Quartet as part of the Russian chamber Music series in the Amaryllis Fleming Hall and the well-known 'Kaiser' quartet by J. Haydn at the Wigmore Hall.
Tickets:
We are not able to accept online bookings for these concerts but there is never a problem getting in on the door
Currently, the only way to make a booking is by postal application. Online booking will be available from early February 2019 after all postal applications have been processed. Click on the link below to download a postal booking form.
postal booking form